The "Taverna Ducale"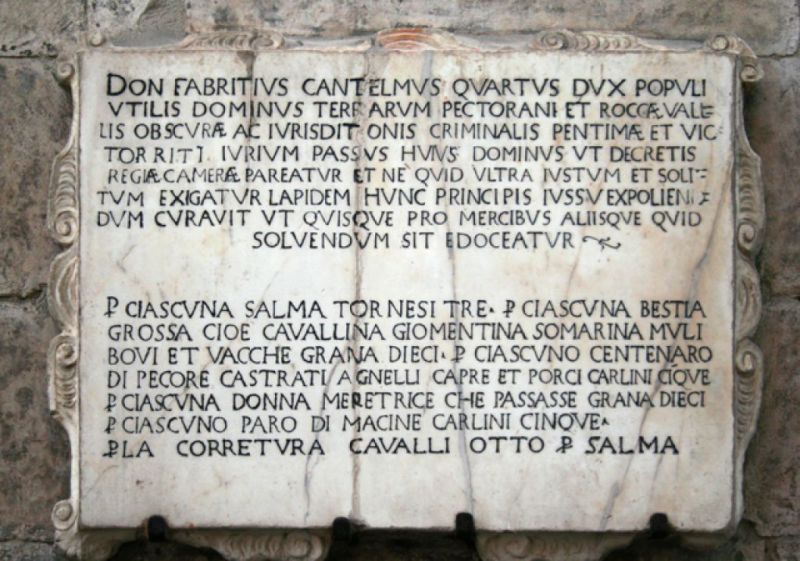 The "Taverna Ducale" is a complex of typically late medieval house-shops that were built along the lower street, which led merchants to the square; the street then proceeded northwards towards the Tremonti Gorge, or westwards towards the Pescara River. But leaving the square, Lord Restaino II Cantelmo wanted the most characteristic of the new buildings, later to become the Taverna Ducale, to be built, initially intended for toll collection. The small building repeats the typological layout of Abruzzo's house-shops of the 14th century, such as the so-called 'Cancelle' of L'Aquila. On the ground floor, there are two gates; the larger one gives access to the large room, the second, smaller one allowed access to the upper floor. The arch at the smaller entrance refers to portals found in L'Aquila and especially in Naples. The provenance of this profile is in fact Neapolitan, but its origin is probably Sienese. Other portals of Sienese derivation are also present in Abruzzo in Penne, Guardiagrele and Celano. The Popolese tavern, on the other hand, proposes an intermediate moment in the evolution that matured in Naples. The entire façade is executed in squared ashlars of local limestone up to the height of a cornice that runs along the entire front and also acts as a sill for a pair of double lancet windows divided in the centre by a small pillar; each of them has above a central column pointed arches that were once polylobed and elegantly executed decorations in low relief, depicting a heraldic insignia of the Cantelmo family.
The "Taverna dell'Università"
Next to the Taverna Ducale is the Taverna dell'Università (1574), which the municipal authorities of the time, overcoming the opposition of the feudal lord with whom they competed, wanted to enlarge and embellish <<per meliore comodità de viandanti et passegierj>>. The façade of the small building shows a round-arched portal surmounted by a quadrangular window, both framed by diamond-pointed ashlars (an uncommon motif in Abruzzo that appears, in Sulmona, on the portal of the agricultural bank building) and in the keystone of the arch, to rival the numerous coats of arms of the adjacent building, the insignia of the University of Popoli.
Source: Popoli città d'arte e natura della Carsa Edizioni
Authors: Federico Palmerini, Roberto Flauto, Andrea De Melis
Project: work-school with the "Amedeo di Savoia" high school (Popoli)
---
Tour of the historic buildings of Popoli
Made by the volunteers of the Popoli Civil Service